Breast Lift (Mastopexy)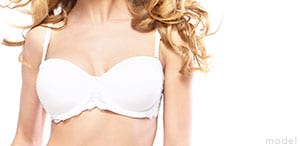 Procedure: Raise and reshape sagging breasts by removing excess skin and repositioning remaining tissue and nipples.
Length: 1 to 3 hours
Anesthesia: Local with sedation , or general.
In/Outpatient: Usually outpatient. Sometimes inpatient.
Side Effects: Temporary bruising, swelling, discomfort, numbness, dry breast skin. Permanent scars.
Risks: Thick, wide scars; skin loss; infection. Unevenly positioned nipples. Permanent loss of feeling in nipples or breast
Recovery: Back to work: 1 week or more. Strenuous activities: 1 month. Fading of scars: several months to a year.
Duration of Results: Variable; gravity, pregnancy, aging and weight changes may cause new sagging. Results may last longer or be enhanced when breast implants are inserted as part of the procedure.