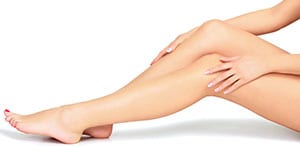 Skin Cancer Reconstruction for the Legs and Arms
While most skin cancers are due to sun exposure, and the majority occur above the shoulders, skin cancers of the lower legs and arms can pose their own particular problems.
Because of greater sun exposure, women can be more prone to melanoma and non-melanoma skin cancers on their extremities. Therefore, greater awareness and early detection of this cancer are essential to minimizing these cancers' morbidity and potential mortality.
What Are My Reconstruction Options After Skin Cancer Removal?
The lower legs are a uniquely difficult area to reconstruct after successful skin cancer removal. The skin is taut, under tension, and may have decreased blood supply. There can also be swelling, thickening from varicose veins, and venous insufficiency.
The skin of the lower legs is also subject to the stresses and pulls of weight-bearing and walking.
Because of this, wounds on the lower legs often cannot be closed in a straight-line fashion. The most common reconstruction option is the use of split-thickness skin grafts from the thigh. Other options include letting the wound heal or granulate on its own, which sometimes can take many weeks or months.
Similar techniques are available for skin reconstruction on the arms.
The most appropriate choice for you will be discussed at the time of your consultation.
Am I a Candidate for Reconstruction of the Extremities?
You might be a candidate for skin reconstruction of the extremities if you were left with wounds and scarring on your arms or legs after Mohs surgery and other skin cancer removal procedures.
Going through skin cancer removal is hard enough. You don't want to have to live with the constant physical reminders of your surgery.
Skin cancer reconstruction for the arms and legs works to eliminate or reduce the appearance of post-surgery wounds and scars.
How Much Does Skin Reconstruction Cost in Pasadena?
The cost of skin reconstruction of the extremities depends on the amount of correction needed and the surgical techniques used. Generally, skin reconstruction cost depends on surgeon fees, anesthesia fees, operating room fees, and the procedure's location.
A consultation with Dr. Hung can help you determine a more specific financial estimate.
Does Insurance Cover Skin Reconstruction of the Extremities?
Since this procedure is considered reconstructive instead of cosmetic, most insurance companies cover some or all costs. However, you will need to contact your insurance company for your specific policy information.
Is Skin Reconstruction Painful?
Depending on the extent of the correction needed, skin reconstruction can be performed using light sedation or general anesthesia to keep you comfortable, but is usually well-tolerated under local anesthesia. With anesthesia, you should not feel any pain during the procedure. Discomfort during your recovery can be managed with over-the-counter or prescription medication as needed.
Can I Drive Home After Skin Reconstruction?
After skin reconstruction of your arms or legs, you will be tired and groggy. Please bring a responsible adult with you to the surgery to safely drive you home.
What Are the Risks of Skin Reconstruction?
Skin reconstruction is a generally safe procedure. However, all procedures come with the risk of complications. These risks include:
Bleeding
Infection
Anesthesia risks
Poor healing
Scarring
Please speak with Dr. Hung if you are concerned regarding the risks of skin reconstruction.