NASAL RECONSTRUCTION
AFTER MOHS SURGERY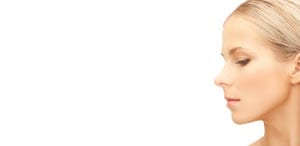 A significant percentage of skin cancers occur on the nose. The nose, along with the eyelids, is probably the most cosmetically as well as functionally important part of the face. Our noses vary tremendously in terms of size, appearance, symmetry, color, texture, skin thickness, pore size, laxity, and apparent sun damage. Often there can be subtle or not so subtle asymmetry, evidence of previous trauma or surgery. Having a skin cancer in general, and on the nose in particular, naturally can be worrisome and stressful for the patient. The patient can be worried not only about curing the cancer, but also about the final physical appearance after the cancer has been removed. We are very mindful of these concerns. It is our role to both totally remove your cancer, and restore the appearance and function of your nose.
Patients often worry about how deep the cancer is, and how deep the resulting defect will be in order to successfully remove it. Depending on the specific type of cancer we are treating, it sometimes can be very difficult to predict what the defect will be prior to the actual surgery.
During your consultation, first and foremost, we will sit down and talk. We will evaluate the anatomy and nuances of your nose. In addition to addressing many of the previously mentioned issues, we will evaluate the anatomy and nuances of your nose. We will also discuss the likely scenarios that will result from the successful removal of your skin cancer.
Reconstructive options include:
Direct linear closure
Local flaps
Full thickness skin grafts or
Distant flaps such as paramedian forehead flap.
Finally, we will discuss likely options and outcomes. For your reference, representative photos of each option are available for viewing on this web-site.