Mohs Surgery | The Office of Dr. Vincent Hung
3 Minute Read:
Mohs surgery treats skin cancer by gently removing the affected area and a thin tissue rim that surrounds the tumor.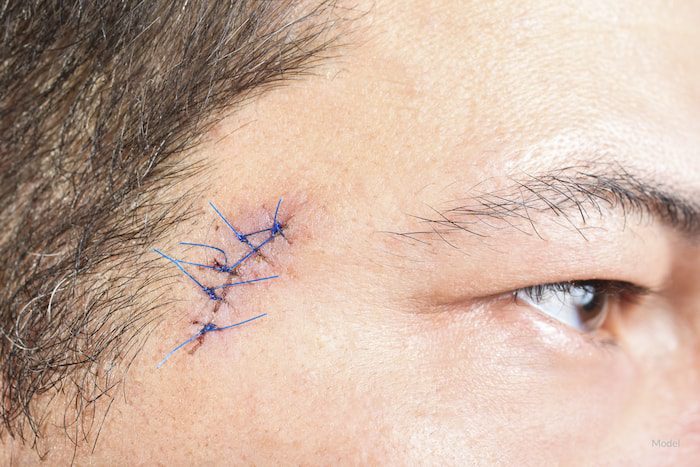 Even though this treatment preserves as much healthy tissue as possible and requires less reconstruction than other types of skin cancer treatment, the affected area will still need to be reconstructed, and a scar will form.
How Is the Area Reconstructed?
Skin grafts (or cartilage grafts) are used to fill in regions that have been affected by skin cancer, whether the growth was on the face, ears, arms, back, or legs.
This type of graft will depend on the area of skin cancer and how much skin needs to be removed to ensure that all of the cancer cells are eliminated.
Skin grafts are either full-thickness or split-thickness. While both techniques move the skin from a donor area (usually a place that is easy to conceal with clothing), they require a different amount of material.
A full-thickness graft removes a full layer of epidermis and dermis from the donor region.
A split-thickness graft takes a complete layer of the epidermis but only a partial thickness of the dermis.
These donor samples are then meshed (to spread over the wound) and applied to the open wound.
What Kinds of Scars Develop?
Your Mohs surgery scar will depend on the size, location, and shape of cancer, as well as the types of reconstruction techniques required.
In certain situations, when the cancer is small, the skin can be pulled together and sutured closed. This technique usually results in a minimal, thin line.
In other situations, when skin or cartilage graft is required, the resulting scar may be round or rectangular and be readily visible.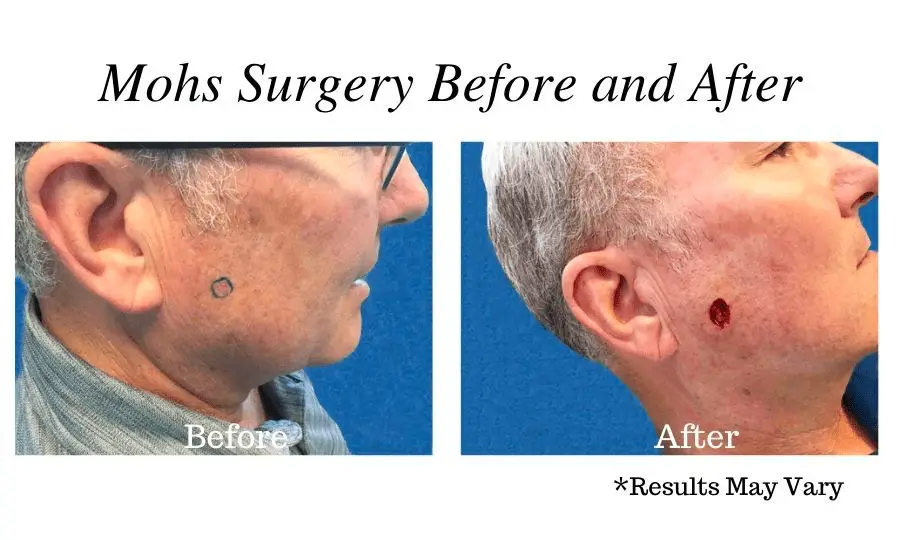 How Can You Reduce the Appearance of These Scars?
Scarring is a common occurrence following surgical procedures. While these scars will fade naturally with time, they can be minimized with specific practices.
Stay Out of the Sun
The skin on new scars is fragile and easily burnable.
Because it is so fresh, it will be more susceptible to sun damage than the surrounding skin, and sun damage causes the scar to darken and take on a dark brown color.
To prevent your scar from darkening, keep the healing incision or graft covered and out of the sun.
Most patients can apply sunscreen after two weeks, but this should be approved by your doctor beforehand.
Apply Silicone
Silicone has many uses, including scar management. Silicone strips or gel can help dull the appearance of surgical scars.
Silicone strips are reusable bandages that should be worn 12 hours a day for at least three months.
Silicone gel is applied directly to the scar to reduce the pigment.
Recovery with these products can begin once the incisions have completely healed.
Post-Surgical Massages
Post-surgical massages are performed to promote wound healing and reduce the appearance of scars.
Massages break up scar tissue, which may reduce the size and the raised appearance of the wound.
This practice can be accomplished by gently rubbing (massaging) on and around the area. Massaging softens the scar tissue and promotes collagen remodeling.
Massages should be performed two or three times a day for five to 10 minutes at a time.
Find Out More
For more information about how to reduce scars or to find Mohs surgery near you, contact Dr. Hung by calling (626) 432-5032 or by filling out our online contact form.
Dr. Hung performs Mohs surgery and skin reconstruction for patients in Pasadena and Los Angeles, California.