Reconstructive Plastic Surgery | The Office of Dr. Vincent Hung
3 Minute Read: 
The lips are one of our most important features. They are the central and focal point of our lower face, and we are naturally drawn to the lips and mouth when we talk with others. On top of that, your lips are really important — they're responsible for nearly all actions on your face. 
But many people have damaged lips, resulting from an illness, such as skin cancer, or a previous injury. This leaves them with lips that make their face look distorted or even unnatural (a condition called the "uncanny valley effect").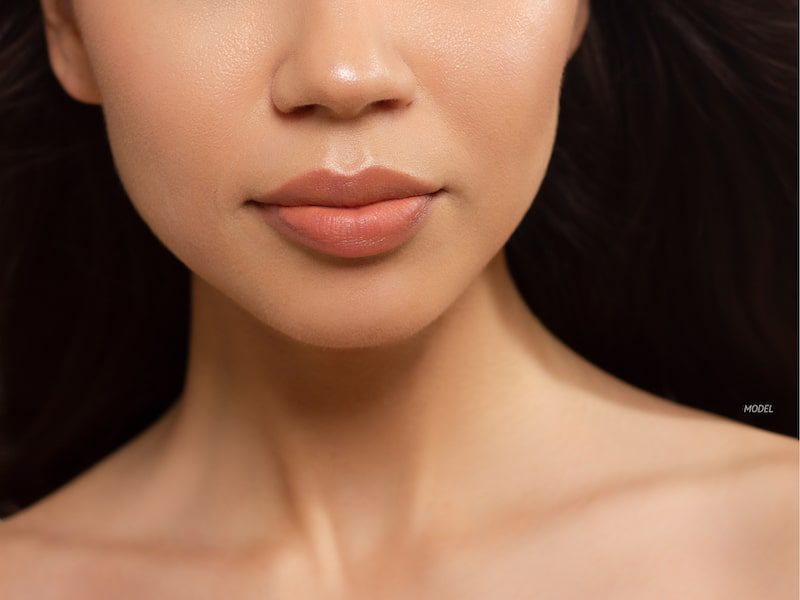 But lip reconstruction surgery can help bring your lips back to a natural and beautiful look, allowing you to restore a more balanced facial appearance. 
Why Should You Think About Getting Reconstruction Surgery?
The driving purpose for any patient having plastic surgery is simply feeling better about the way they look. This is especially true if a life event — like skin cancer — changed any part of your appearance. 
For people struggling with this problem, reconstruction surgery is the way that they can return themselves to how they looked before that life event. And many people choose to take action and surgically correct these issues; in fact, in 2020, nearly 7,000,000 people underwent some form of reconstruction surgery. 
For the lips, many people have lasting side effects from such issues as lesions, defects left from Mohs surgery for cancer removal, or lacerations and scars from facial injury or previous lip surgery. 
All of these issues can be addressed with cosmetic surgery, allowing you to feel confident in who you are and the way you look.
The Importance of Choosing the Right Surgeon
Deciding to undergo any form of plastic surgery is the first step in attaining the look and feel you've always wanted. 
But the second step is just as important, and that is choosing the right plastic surgeon for your procedure(s). You want to make sure that the doctor is trustworthy and will put your safety and best interests first. Dr. Vincent C. Hung is that doctor. 
Lip reconstruction surgery is a very tricky procedure. Since the lips lack any clear fibrous framework, it can be challenging for many plastic surgeons to keep the lips symmetrical and natural looking. Additionally, the color, texture, and elasticity of the lips need to be maintained. Luckily, Dr. Hung is board-certified in plastic and reconstructive surgery, and he has years of experience with reconstruction procedures. 
With Dr. Hung, you will be in great hands and know that you will receive the results you're looking for. 
Other Reconstruction Surgeries Offered
In addition to the lips, other parts of the face affected by previous injuries or other life events can look fresh and revitalized with reconstruction surgery. Dr. Hung is proud to offer reconstruction surgery options for ear correction and scalp reconstruction. 
Whatever your concerns with your facial appearance, there's a corrective surgery that can help you feel comfortable with your reflection in the mirror.
Find Out More
For more information about lip reconstruction surgery, contact Dr. Hung by calling (626) 432-5032 or filling out our online contact form. 
Dr. Hung performs reconstruction surgery for patients in Pasadena and Newport Beach, California.