Facelift, Facial Rejuvenation | The Office of Dr. Vincent Hung
3 Minute Read: 
Several facial procedures are available to help women and men achieve contoured and youthful facial aesthetics, with facelift surgery being one of the most common and popular of these procedures.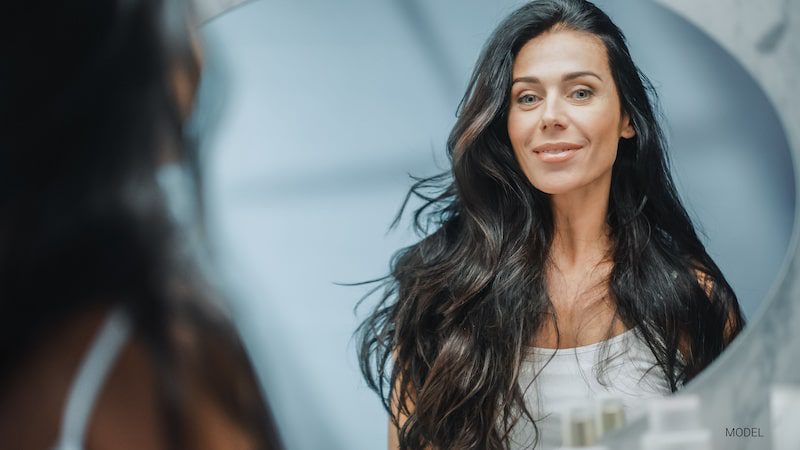 However, one of the biggest misconceptions in plastic surgery is that, despite its name, a facelift doesn't actually address the entire "face." Instead, a facelift only corrects the lower and midface (from the cheeks down to the neck). This means that aesthetic concerns in the upper face, including the areas around the eyes and on the forehead, cannot be addressed with a facelift alone. 
To address these areas, a facelift must be combined with other facial procedures as a comprehensive facelift. 
Below, we'll take a look at these other procedures to help you see why combining procedures may be your best solution.
What Does a Facelift Do?
Facelift surgery is a procedure in which wrinkles, fine lines, and skin laxity on the lower two-thirds of the face are corrected. With this procedure, the underlying facial tissue and muscles are tightened, excess skin is removed, and the remaining skin is pulled tight to give you the smoother, more youthful appearance you desire. 
Why Should I Consider Combining Procedures for a Comprehensive Facelift?
As mentioned above, a facelift only addresses the lower two-thirds of the face (from the cheeks to the neck). 
So, if you are looking to achieve a complete facial transformation, then a facelift alone is not going to be enough. 
By only correcting the lower and middle areas of the face, you risk creating an imbalance between your facial features, with a portion of your face looking younger and more rejuvenated than the other. 
Combining procedures into a comprehensive facelift can give you a more complete and balanced improvement.
What Other Procedures Can I Combine to My Facelift?
Blepharoplasty and brow lift surgery address age- and lifestyle-related concerns in the upper third of the face. 
Here are some details about each of these cosmetic procedures:
Blepharoplasty
Also known as eyelid surgery or an eyelid lift, blepharoplasty addresses cosmetic concerns in the upper and lower eyelids. 
Upper blepharoplasty can be performed to correct sagging skin in the upper eyelid, which can cause drooping eyelids and can even obstruct vision. Lower blepharoplasty can be performed to correct puffiness in the lower eyelid as well as dark circles and bags under the eyes. 
Some patients choose to combine upper and lower eyelid surgeries to achieve more youthful eyelids that help to highlight the natural beauty of their eyes. 
When combined with a facelift, blepharoplasty can help to accentuate your results.
Brow Lift
Along with blepharoplasty, brow lift surgery (forehead lift) helps patients achieve a more youthful and balanced appearance when combined with a facelift procedure. 
Brow lift surgery addresses sagging skin in the eyebrows that can cause heavy and furrowed brows as well as wrinkles and lines on the forehead, which often make women and men look much older, tired, and angrier than they actually are.
In the End…
Facelift surgery is a fantastic cosmetic surgery if you want to improve the look of your face. However, if you desire a balanced and complete transformation to your entire face (including tighter, wrinkle-free skin), then a comprehensive facelift (which combines facelift surgery with either blepharoplasty, brow lift surgery, or both) is your best bet. 
After your comprehensive combination procedure, you can look forward to seeing your reflection in the mirror and smiling with confidence and pride at the face you see looking back.
Interested in Learning More? 
If you have questions about facial cosmetic procedures in Southern California, please feel free to contact Dr. Hung at 626-432-5032 (Pasadena) or 949-574-8292 (Newport Beach).